A listing of some books people mentioned at the last Salon, in response to an Adult Sex-Ed Question: "What are some really good erotica readings?" Presumably to get turned on while reading. Before you read the list (below this article) you might be interested in several short videos of women getting turning on while reading, but not by the words – a hidden vibrator. Fun to watch nonetheless.
Women Orgasm While Reading… For The Sake Of Art, Of Course (NSFW)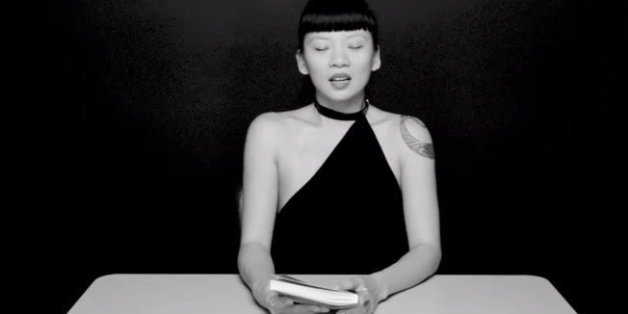 In the videos below, a series of women sit at a desk and read a book of their choosing aloud. As their reading session continues, you may notice a quickness of breath, some fumbling over easily legible words, light panting, shivering, giggling and moaning.
No, these physical reactions aren't responses to the texts themselves, but rather to an unseen assistant pleasuring said women with vibrators under the table. Eventually, they climax. The piece, by artist Clayton Cubitt, is titled "Hysterical Literature," and is slated to go on view as part of Mass MoCA's "Bibliothecaphilia" exhibition later this month.
"I sat the readers at a table," Cubitt told The Daily Beast, "and I showed what society wants to see on top of the table, and I hid the sex under the table. I wanted to see what people would react to more: what they could see, or what they imagined."
"Bibliothecaphilia" addresses the quiet, mystical allure of the library — a space of escape, of solitude, of transcendence. With the rise of eBooks and library apps, these strange sacred spaces sometimes teeter on becoming obsolete. The group show features artists who unpack our appetites for libraries in all their physical and mythical glory.
While Cubitt's video series certainly touches on the love of libraries, it simultaneously explores themes of feminism, sexuality, hysteria and authenticity. The moving portraits, shot in stark black-and-white, are part fine art, part viral click-bait, part literary ode, part pornography.
"I'm quite fascinated with the concepts of control and release when it comes to portraiture, especially in this modern of era of social networking profile self-portraits and Instagram, when everyone has a well-practiced notion of personal branding," Cubitt explained to The Daily Dot. "What's left for the portraitist to capture? One can shock the sitter out of that plastic smile. I'm attempting to lead them back to something real."
Despite the obvious erotic appeal of Cubitt's project, the importance extends beyond just sex. For many of the female participants, the session presented an opportunity for women to proudly express their sexualities and retain their power — a man is never pictured on screen. "This is my revolutionary act of selfishness," wrote one participant of her experience, "my virtual picket sign… my one-woman rally… my rebel yell… my sedentary march… a call for dialogue and understanding."
Other participants commented on the biased and frustrating response to the piece, which unapologetically displayed the taboo image of female pleasure. "But despite being a project I'm deeply proud of, it has been challenging to deal with the intense scrutiny by the art world for my participation in this work, while my male counterpart rarely dealt with any," said photographer and artist Marne Lucas, who appears in session nine.
The series title, "Hysterical Literature," alludes to Victorian-era treatments for female "hysteria," which often incorporated vibrating patients. It also evokes associations to the religious ecstasies of the middle ages, as the subjects' spoken words are imbued with erotic ecstasy.
The films, at once intellectually and sexually stimulating, juxtapose the cultured pursuit of reading with the more deviant pastime of masturbation. "I don't remember exactly when I decided to combine this with reading." Cubitt explained, "At some point it occurred to me that the choice of books is such a personal one, that it could serve as a proxy for our idealized personality, while the physical distraction could try to destroy it. And that also allowed me to poke fun at the idea that our mind is somehow 'better' or more 'us' than our body. How nobly we view the act of reading, compared to the act of sex."
https://www.huffingtonpost.com/2015/01/15/clayton-cubitt_n_6472188.html
At last Tuesday's Salon April 19, I mentioned this woodcut. s
Katsushika Hokusai's "The Dream of the Fisherman's Wife"
EROTICA BOOK LISTING
Jon sent the following email:
"The authors I mentioned the other night were Emma Holly and Cecilia Tan. I may have mentioned a few others but I can't remember offhand.
Holly writes erotic romances, often delving into paranormal erotica and BDSM. Some of her works are more toward mainstream romance, but when she turns toward *erotic* erotica she writes some of the best sex scenes I've ever seen in print. I recommend All U Can Eatand Cooking Up A Storm– both contemporary erotica standalone books. Her website is http://emmaholly.com/
Cecilia Tan is one of my personal heroes. Not only does she fuse sci-fi/fantasy/speculative fiction with erotica, often with BDSM & LGBTQ themes, she also founded Circlet Press ("Erotica for Geeks", http://circlet.com/) which is devoted to publishing that genre. Her short story collection Black Feathersis a good starting point, or her novel The Velderet. Her personal website is http://ceciliatan.com/.
I also mentioned BookBub (http://bookbub.com/), which collects discounted and free ebook offers. I subscribe to their daily newsletter, which nearly always includes at least one erotica title (too often along the lines of the dreaded "Sexy Billionaire" trope) and often has free titles. There are similar services out there but so far BookBub is the only one I know of that includes erotica.
Who else? Janine Ashbless (http://www.janineashbless.com/), Rose Caraway's The Sexy Librarian's Big Book of Erotica, (S&S's Cleis Press imprint, http://www.simonandschuster.com/books/The-Sexy-Librarians-Big-Book-of-Erotica/Rose-Caraway/9781627780773), and a big shout out to anything by Logan Belle (the author, not to be confused with the singer-songwriter: http://www.simonandschuster.com/authors/Logan-Belle/406674085).
That's all I've got for now." – Thank you Jon
I would like to add: Violet Blue, an erotica author and editor. Her website https://www.tinynibbles.com has a great blog and links to her work at Literate Smut on her menu bar.